Wild Hogs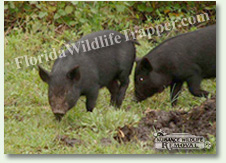 Feral Hogs are one of the most prevalent creatures living in the wild here in Florida. A large boar hog can weigh over 250 pounds, though most hogs weigh in around 150 pounds. A boar is identified by two long tusks in his lower jaw. The sows (females) do not have the same long tusks. If hunted, the sow is often used for meat. Floridaís population of feral hogs is second only to the state of Texas. Last year over 500,000 hogs roamed the wild in Florida. They live in a variety of habitats from everglades to hills.

There are numerous problems associated with the vast population of feral hogs. They are a nuisance to farm owners, rooting pastures, sod, and crops for food.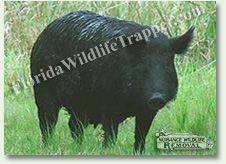 In addition, they carry over forty-five different diseases. Thirty-seven of these are parasites, seven are bacteria, and one is a virus. Eight of the parasites can infect humans, along with all four species of ticks that may live on a hog.
Nuisance Wildlife Removal will relocate these hogs using a live box trap made of strong metal. Nuisance Wildlife Removal uses traps made by local business R & N Welding.
The dangers of feral hogs on commercial and residential properties are vast, and Nuisance Wildlife Removalís technicians are trained and prepared to help.