Polk County Animal Control
863-825-0020
Attic Restoration
Odor Control
Relocation of Wildlife
Mole Control

Dead Animal Removal
Animal Evictions
Bird Control
Rodent Control

Bat Control
Bee Control
Wasp Control
Snake Removal
As the state of Florida becomes more and more urbanized, the wild animals aren't just disappearing or moving to the wooded areas. Most animals are very adaptable, and are going to make do with whats available to them. That often means sharing space with humans by means of entering sheds, garages or even attics. Food and water are readily available, if you consider pet food bowls, garbage cans, bird feeders and swimming pools.
When this co-habitation occurs, its often associated with noises, bad smells and desease laden filth. Too often, damage to your home or property will occur as well, as the interlopers make new entrances and exits to their newly adopted digs.
Nuisance Wildlife Removal has built a reputation of honesty, reliability and highly effective nuisance wildlife removal. Our critter experts are well versed in current state statutes and maintain the proper credentials, permits and licensing to handle nuisance wildlife. Our integrated pest management & control is time tested, using specialized exclusion techniques and todays technology to resolve your wildlife conflicts.Our focus is on nuisance wildlife services, animal damage control & prevention and pest control so if you have a domestic dog, cat or a pet issue, please contact the local Humane Society. We are not a rescue or rehabilitation facility. Sick or injured pets and animals should be taken to a veterinarian or wildlife rehabilitator.
We will remove problem wildlife from your home, garage, attic & crawl space. We will inspect, remove, relocate, clean out, exclude, repair and modify habitat as needed. When we leave, your home and property will be more suitable for human habitation, and less suitable for wildlife.
Nuisance Wildlife Removal provides professional wildlife control for both residential & commercial customers in Polk County Florida. We offer custom animal control solutions for almost any type of wildlife problem, whether it be the noises of squirrels running through the attic, a colony of bats living in a building, or the destructive behavior of a raccoon or other critter, we have the experience and the tools to quickly and professionally solve your problem. For a consultation, give us a call at 941-729-2103.
Not many Polk County pest control companies are licensed and insured professionals, specializing in nuisance animal removal. Make sure that you hire a competent expert for your Polk County exterminator of nuisance wildlife. At Nuisance Wildlife Removal, we will be courteous and friendly and take the time to answer your questions. Give our Polk County trappers at Nuisance Wildlife Removal a call, and we will listen to your problem, and make an appointment to perform an inspection.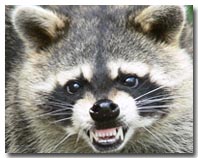 Florida is full of wildlife, including snakes, squirrels, raccoons, opossums, and more. You will need professional Bradenton snake removal or raccoon control if you can't trap the wild animal on your own and perform full repairs and prevention to keep pests out for good. We perform the repairs and decontamination if necessary. Rats and mice love to live in attics, and can chew wires or leave droppings. In fact Polk County wildlife frequently enter homes, and it takes a pest management company to remove them. We are Manatee County wildlife management experts, and are familiar with all the pest animals, including all species of Florida snakes and bats. We at Nuisance Wildlife Removal are the best amongPolk County nuisance wildlife companies and can solve all animal damage issues. Our wildlife operators are skilled at bird control and bat removal, and would be happy to serve your Polk County bat control or pigeon and bird control needs with a professional solution. Opossums, skunks, moles, and other animals that can damage your lawn - we are the exterminators who can capture and remove them. Our professional pest management of wildlife and animals can solve all of your Polk County animal control and capture needs.
Give us a call at 863-825-0020 for a price quote and more information.
---
Polk County News Clips:

Nuisance Wildlife and Animal Control in Polk County

On my return from the mail box at the end of our driveway I sensed something very small fall upon my shoulder. On quick observation I discovered a flea!

Above me upon a large live oak limb scampered a gray squirrel. Although gray squirrels are amusing to watch playing games in the trees, they have often been the source of my irritation. Until we discovered squirrel proof bird feeders, we undoubtedly spent more money on feeding the squirrels than attracting birds.

The squirrel is a fat rat with a fluffy tail the public, in general, likes to love ... a rodent with good PR. I blame them for most things that go wrong in my garden. My uprooted spring bulbs, the planters that are dug and dismantled, the chewed limbs and branches, but when most infuriated, I refer to them as flea bitten rodents.

The goal of my column this week was to expose these vermin to the public letting everyone know these cute little creatures with large, brown eyes and bouncing, fluffy tails are actually marauding villains in disguise.

To my surprise, research revealed that they aren't the demonic creatures that one might identify them as. The actual culprit responsible for most of the damage to our gardens, roofs, soffits, trees, fruit, flower beds, wiring and so on, is the Roof Rat, referred to in Florida as the fruit rat.

Although gray squirrels are susceptible to fleas, mange, botfly infestation and other diseases, scientific surveys indicate that not all gray squirrels have fleas nor do they all carry a host of diseases. Some do, some don't. However, roof-fruit rats are notorious for spreading fleas and diseases, and since they live and share the same habitat with squirrels it may be this contact that considerably increases the incidence of squirrels becoming infested with fleas and disease.

Roof rats (Rattus rattus) are abundant in Florida. The Norway rat (Rattus norvegicus) familiar to most people is actually rare in Florida. You can easily observe roof rats at dawn or dusk running along power lines, resting upon roofs and snacking upon the fruit of citrus trees.

The University of Florida relates that the secretive, nocturnal nature of rats means that they often go unnoticed in a neighborhood until citrus and other fruit begin to ripen. Roof rats then make their presence known with a vengeance. In citrus, papaya, cantaloupe and watermelon, the characteristic damage is a circular hole about the size of a quarter or half dollar and the whole fruit is hollowed out.

The roof rat (rattus rattus, a.k.a. citrus rat, fruit rat, black rat, or gray rat) is non native to Florida. It is an introduced species of rat native to southern Asia. This rat is the same species that carried the bubonic plague around the world and is also the reservoir host for murine typhus. The UF Institute of Food and Agricultural Sciences dubs the roof rat as the worst rodent pest in the state of Florida and most abundant.

They offer this criterion for identification purposes: Adult roof rats are 12- to 14-inches long and weigh 5 to 10 ounces. The tail of a roof rat is longer than the head and body length: hairless, scaly, and black color. The body is sleek and graceful with prominent ears and eyes. There are three color phases seen in Florida: black back with a slate gray belly, gray back with lighter gray belly, and brownish gray above with a white or cream colored belly.

Roof rats consume and destroy stored animal and human food, attack fruit crops, and take up residence in attics, soffits, hollow walls, and out-buildings. When they invade buildings they chew through wires (potentially starting fires), gnaw through plastic and lead water pipes, make holes in walls and cause other structural damage. William H. Kern Jr. "Control of Roof Rats in Fruit Trees." University of Florida: IFAS, 24 Feb. 2008.

Fleas and mites often leave dead rat carcasses and may infest the entire house if the carcass is not removed promptly. Always wear a HEPA approved breathing mask and gloves when removing any roof rat droppings or nests around your home.

Although the roof rat is difficult to control, carefully preserving your landscape as raptor and snake friendly will positively assist in maintaining a balance in the roof rat population. Although there are a variety of traps and poisons available on the market for controlling rat infestations, take heed and first contact your local extension office before attempting to bait or trap rats on your own. Improperly baiting and poisoning can largely affect and kill the innocent wild animal and bird populations, as well your beloved pets.

Now, as for that squirrel resistant feeder you'll be inquiring about: The only one that works for us is a tall cylinder surrounded by an ornate cage. When the squirrel tries to access it the weight of the squirrel moves the cage down thus closing the feeder holes. The top of the feeder is protected by a large metal baffle. We found ours at our local home improvement store. They seem to carry them as a stock item. While maintaining balance in your garden; you can reduce the rat population, feed "only" the birds you want to feed and continue to be amused by squirrelly antics ... back to nature.