Foxes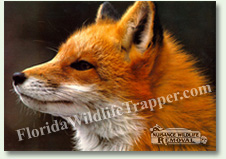 Foxes are common all over the country. The Red Fox commonly has red-orange fur, a white belly with white markings on its muzzle and on the tip of its tail, and black stockings on its legs. The ears and muzzle usually have black on them. The Red Fox can also have a yellow, black, or silver coat. When winter approaches, the fox's coats will grow thick to keep them warm. They are very adaptable, able to live in the woods or right in your backyard. They are carnivorous, meaning they will eat other animals.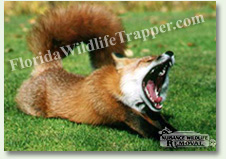 Though they are a member of the dog family, the fox resembles a large cat. Like a cat, the fox will stalk its prey and play with it before eating. They usually eat small animals like birds or rodents, but they are known for raiding garbage cans as well.
Although Foxes are normally peaceful and calm, there is a possibility that they could have rabies, which could endanger you, your children, or your pets. They also can carry fleas or ticks, which carry diseases as well. In addition, they have a tendency to raid garbage cans, and can be a general nuisance.
The best way to rid your home of a fox is by humane trapping and relocation. A licensed trapper has the means and experience to do this.