Bobcats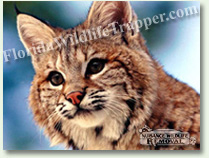 The name bobcat comes from its "bobbed" tail, as little as 1 to 2in (2.5 to 5cm) long. Sometimes called the bay lynx or wildcat, the bobcat can be recognized by its tufted, triangular-shaped ears and facial tufts or "sideburns." (See Figure 1 ). It has a coat pattern of distinct brown or black spots over the back and legs on a reddish, buffy or gray base color. The belly is white and spotted with black. The backs of its ears are black with large white spots in the center. This coloration is an effective camouflage when the bobcat is among sun-dappled undergrowth. When wet, the bobcat may appear black.

Its tail, usually about 5in (13cm) long, is black only on top at the tip. This short tail distinguishes the bobcat from an immature, LONG-tailed panther, for which it might otherwise be mistaken. Males weigh 20 to 30lb (9 to 16kg) and females 15 to 25lb (7 to 11kg).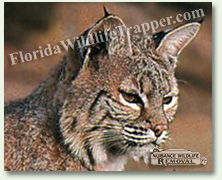 The bobcat can reach 23in (58cm) at the shoulder and up to 3ft (91cm) in length.
Bobcats can live in close proximity to people. Although an important predator ecologically, it seldom preys on domestic animals or game. Occasionally the bobcat will dig holes in yards or cause disturbances around henhouses or chick brooder pens. Small farm animals, poultry, or household pets can become prey, especially after dark.
Exclusionary methods are recommended in these cases. Authorized nuisance-wildlife trappers may be used to trap and remove bobcats.